St George's Church
Church of England schools are established primarily for the communities they are located in. They are inclusive and serve equally those who are of the Christian faith, those of other faiths and those with no faith.
A core desire that we have found expressed in many ways is for 'life in all its fullness' (John 10:10). It is about 'educating the whole person', what the 1988 Education Reform Act (in a programmatic statement that remains in force and is deservedly influential) sees as physical and intellectual development united with spiritual, moral, social and cultural development.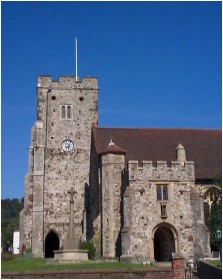 St. George's Church is a generously proportioned late 13th century church with a 15th century tower and porch.  It is a Grade I listed building.  The Church dominates the village square at the centre of Wrotham, a village of just under 800 households and some 2,500 inhabitants, lying on the Pilgrims Way.  St. George's is the only place of worship in the village.  It is the second church to be built on the site – the first dating back to the middle of the 10th century – and has always been dedicated to St George, which was relatively rare at the time of its consecration. 

Click here to access St George's Church Website
Click here to access Kent Archaeology St George's Church
Kindness
Hope
Forgiveness
Honesty
Respect
Courage
"Letting Our Light Shine" (Matthew 5:16) - By Bringing Faith and Education Together