The Bishop Of Tonbridge Visits
St George's Welcomes The Bishop of Tonbridge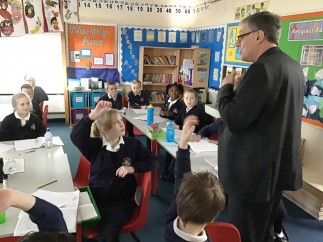 The children were delighted to be visited by the Bishop of Tonbridge, Mr Simon Burton-Jones, who led Worship and then visited each class answering our questions.
The top question had to be where was his Miter (hat) and Crosier (staff) – which he promises to bring next time he visits!
Other questions he was asked by the children included:



Question:  "What do Bishops do – where do you have to go in your work?" 

Reply:   I work in a section of Kent that has 262 Church of England churches, I work within communities and tour schools offering lots of help and support. 

Question:  "As a Bishop how do you represent God?" 

Reply:  Try to be as like God as you can as a person.

Click here: http://bishopsinaction.co.uk/what-bishops-wear/ Find out more about:  
What is a Bishop?  What does a Bishop do?  What does a Bishop wear?



Visit:  https://www.rochester.anglican.org/diocese/bishops/the-bishop-of-tonbridge/ for further information.
Respect
Forgiveness
Honesty
Hope
Kindness
Courage
Bringing Faith and Education Together